How often have you looked up and wondered why your ceiling is not painted?
If you ask yourself this question more than you should it is an indication that you need to start painting your ceiling. Ceilings go unnoticed when the entire home is getting colors assigned. Professional home designers label it as the '5th wall'. Although you might feel it goes unnoticed, you can always jazz up its look with vibrant designs and colors so that it doesn't remain isolated.
And ask this to yourself, if you did not hesitate to spend so much on the chandelier, stylish modern fan and even the four walls; why leave the ceiling alone.
Stripe Designs
The use of broad stripes on the ceiling would attract attention up along the length of the room, giving it a longer appearance. This style of design brings in a retro look. Its classic look is never out of style and can be upgraded with choice of paint color.
Sea blue with bright yellow gives it a 50s look, while light sandy golden with mauve red gives it a feeling of country. Talk to your painting contractors in Kolkata and let them help you choose the right color for your home.
Brings the whole room together
A well painted ceiling has the capacity to bring the whole room together It acts as the binding glue which makes the walls have character of their own.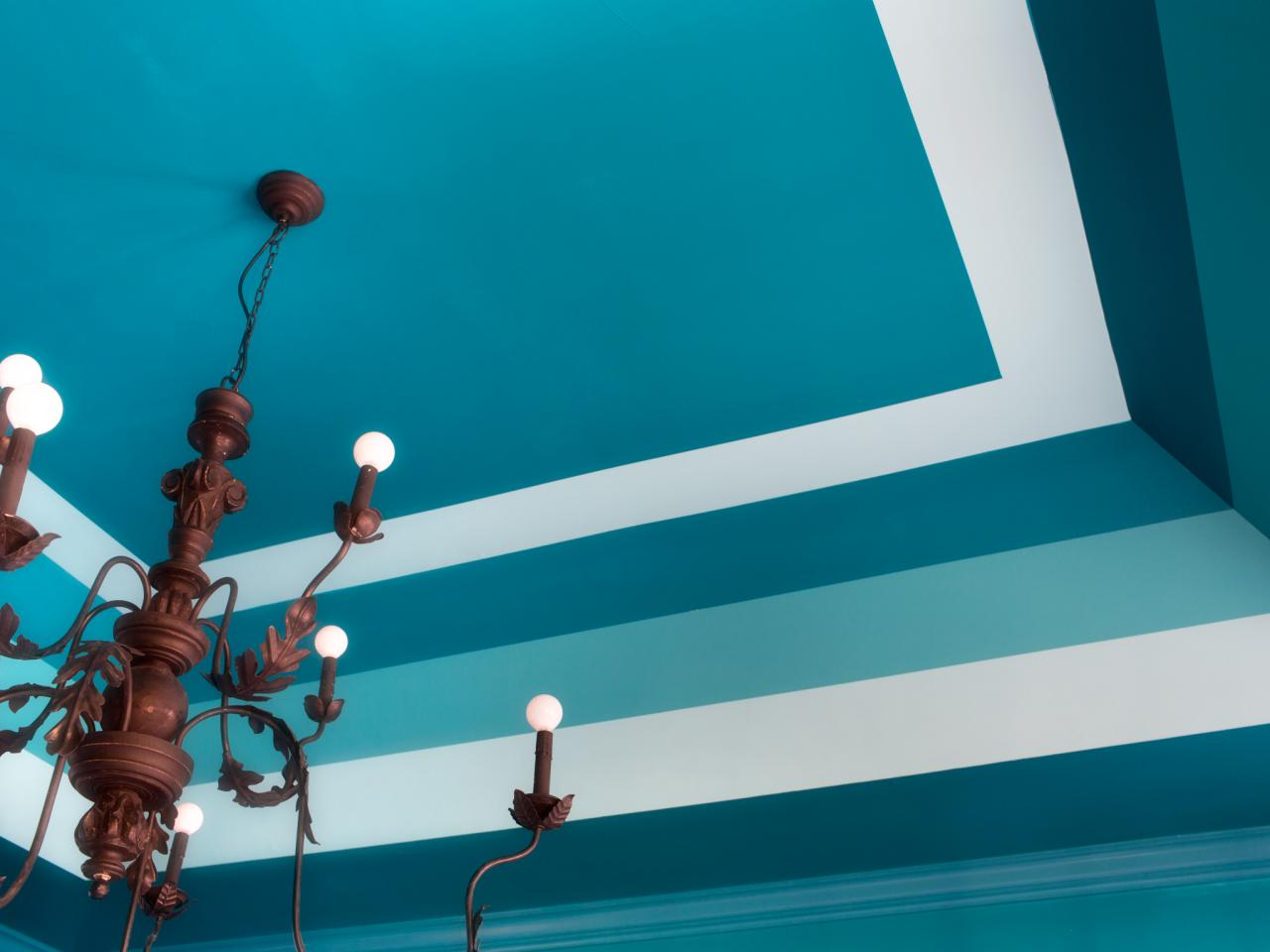 The wall textures and fan styles lift up with a good ceiling painted in the backdrop. Ceilings are more important in a room's paint ambience than you actually thought it to be.
Will remind you to always look up
Painting your kid's nursery with a bright sunny yellow will set the tone of the room to be bright and cheerful. Since kids spend a lot of time looking upwards it is good that they get inspired by mellow and soft colors.
A well painted ceiling in living rooms and halls actually makes you appreciate your home more. It is a sight to appreciate and conversation starter.
A sense of continuity
Not painting ceilings into the overall design scheme results in a visually discontinuation. All four walls are painted well with nice colors and the ceiling at the top goes blank; well that makes for a disjointed appearance.
One of the most common ways of bringing a room together is to give their walls a border in a darker color and paint the ceiling many shades lighter than their walls. It works great in rooms with relatively high ceilings.
Adds a bit of drama
What use if your home paint cannot add a pinch of drama to your rooms. Well, ceiling paint will do just that for you if you choose some bold designs.
A lot of people go for black smoked out colors for their ceilings. This usually complements if you have a hanging light or a classy chandelier. It also adds a bit of architectural interest to your home overall.
Makes the room feel intimate
Painting your ceiling colors which complement the walls will make the room feel more intimate. It also gives the illusion of you having a bigger room.
Ask your home painting services in Kolkata to help you pick ceiling colors which are absolutely in coordination with your walls and the ambience around as well. Top notch home painting services like 123Home Paints would provide you with their own professional color consultants who shall help you.
If you have changed your mind about painting your ceiling then do reach out to us and we would be more than happy to help you.